Joseph Zito / Lennon Weinberg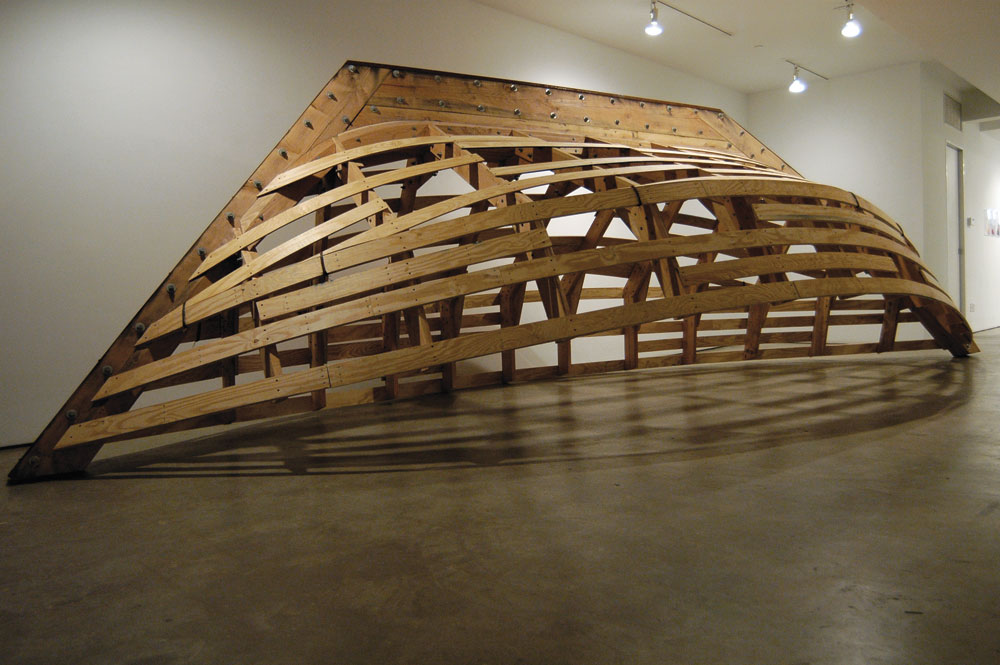 Skeletons inevitably speak of death, but also of endurance. A huge, handmade, bare-bones hulk of a boat here filled the back of the gallery to barely squeeze-by-able dimensions. Behind the sculpture was a somber purple curtain with a bench poised before it: a funeral.
The boat itself, installed here upside-down, contains an abundance of symbolic content. A capsized ark, perhaps? Charon's ferry that transports souls across the Acheron River to Hades? The Titanic? A coffin? None of it good. But the raw, fresh wood it is made of also speaks to creativity and potential—to new beginnings.
The show, "Not Even the Saints Can Help," was overtly autobiographical, finding Zito reflecting on loss, especially the death of his father. Accompanying the boat, Untitled (for Jamie), 2009-10, were delicate gouaches on paper lining the walls of the long entry space. Their presence provided a striking yet unassuming contrast to the vessel.
Titled Stations 1 through 11 (2010), the multipart work suggests the Twin Towers as well as the tops of ghostly houses in reds, oranges, and blues, gently expressing emotion through color. A rich, blue chalk-powder drawing, Curve of the Keel at the Bow (2010), was one of several pieces recording Zito's working process.
Playing all the while was a video projection beside the ship's frame showing a turbulent sea, in what may have been a too-literal but nonetheless commanding commentary.
Zito stopped working after his father died in 1998 and he began again after 9/11. The emotions here were quite powerful, expressed not only in the images themselves but also in the materials, which speak their own language and do so very directly—and to lingering effect.